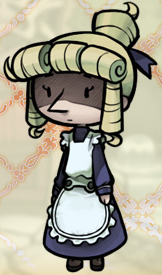 "Let them eat cake."
Antoinette, known as Praline (プラリーネ Purarīne) in Japan, is the owner of the pastry shop Sweet Mountain, her main client being Dover. She's always trying new pastries and cakes with strange ingredients, such as Penelope's crystalized dreams.
Ad blocker interference detected!
Wikia is a free-to-use site that makes money from advertising. We have a modified experience for viewers using ad blockers

Wikia is not accessible if you've made further modifications. Remove the custom ad blocker rule(s) and the page will load as expected.