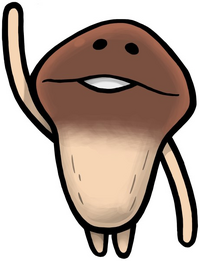 "He's an investigative sidekick sent from the Great Detective Society. Isn't he cute?" - Touch Detective 2 ½ description
Funghi, known as Nameko (なめこ) in Japan, is a character and mascot from the video game series Touch Detective and Mushroom Garden. He is Mackenzie's slimy fungus assistant sent from the Great Detective Society and can be used to solve some puzzles. He also acts as Mackenzie's pet, living in her room in a small house made by her. All he can say is "nff... nff...".
The iOS version of Touch Detective and Touch Detective 2 ½ contain a bonus mode where the player controls Funghi and must escape from danger or interview people, respectively.
Ad blocker interference detected!
Wikia is a free-to-use site that makes money from advertising. We have a modified experience for viewers using ad blockers

Wikia is not accessible if you've made further modifications. Remove the custom ad blocker rule(s) and the page will load as expected.