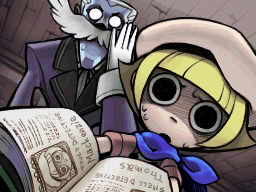 The Great Detective Society is a society of detectives that Mackenzie attempts to join in Touch Detective. By the end of the game she succeeds to join the society, gaining the nickname of "Touch Detective", which she doesn't like. In Episode 5 of Touch Detective 2 ½, Mackenzie receives her ID Card from the Great Detective Society. Besides Mackenzie and her assistant Funghi, the only known member of the Great Detective Society is Thomas the "Smell Detective", whose name can be seen in the Great Detective Society book saw by Mackenzie.
Ad blocker interference detected!
Wikia is a free-to-use site that makes money from advertising. We have a modified experience for viewers using ad blockers

Wikia is not accessible if you've made further modifications. Remove the custom ad blocker rule(s) and the page will load as expected.