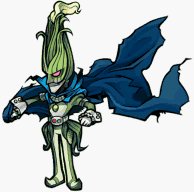 "It is better to take what does not belong to you than to let it lie around neglected."
The Cornstalker, known as Kaitou Morokoshi (怪盗モロコシ) in Japan, is a mysterious thief from Touch Detective 2 ½. He is a master of disguise that is always trying to steal the rarest and most valuable items in the world. He considers Mackenzie his rival and always calls her "Touch Detective", though no one knows how he knows about her title.
Ad blocker interference detected!
Wikia is a free-to-use site that makes money from advertising. We have a modified experience for viewers using ad blockers

Wikia is not accessible if you've made further modifications. Remove the custom ad blocker rule(s) and the page will load as expected.